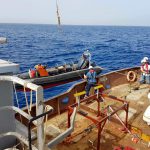 In the morning: Two distress calls reached us, one rubber boat is in sight. The speed boat is already on its way. There are no other ships in the area that could possibly perform rescue.
---
Mission report May 11th 2016
We could today respond to two distress cases north of Libya:
Boat 1: Approx. 115 people including women and children
Boat 2: Also around 115 people with women and children
Everyone was rescued successfully and is now being brought to Italy by Aquarius of SOS MEDITERRANEE. Thanks for great cooperation!
All crew members are well.