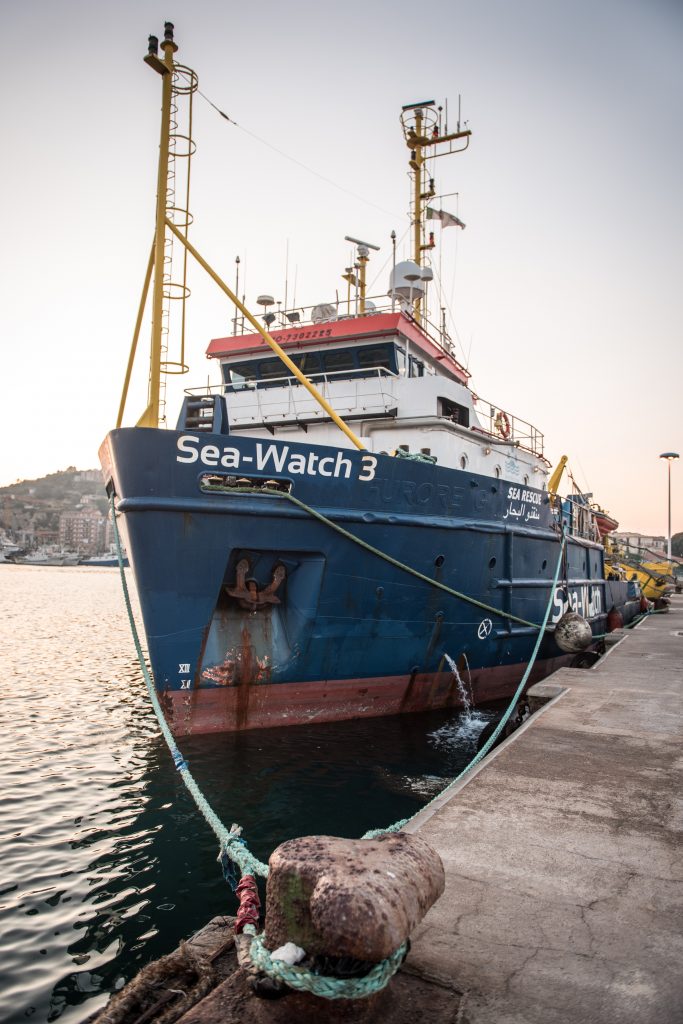 #FreeSeaWatch3
Let us rescue
The Sea-Watch 3 has been in port for more than 90 days, all the time ready to leave.
The European Union is hindering civil sea rescue to fight the dying in the Mediterranean Sea. What is supposed to be a duty for everyone on the high seas becomes a hostage of European border policy. In the face of smear campaigns and bureaucratic battles, arbitrariness and inhumanity define the discourse about human rights.
The EU continues to support the so-called Libyan Coast Guard, which consists of militias forcing people back into a civil war country in violation of international law. We call on the civil society to stand with us and demand an end to the criminalization of migrants and rescuers! We need legal and safe refugee corridors to Europe!
Sea-Watch e.V.
Civil sea rescue of people in flight
Sea-Watch e.V. is a non-profit organization that conducts civil search and rescue operations in the Central Med. In the presence of the humanitarian crisis, Sea-Watch provides emergency relief capacities, demands and pushes for rescue operations by the european institutions and stands up publicly for legal escape routes. Since a political solution in the sense of a #SafePassage is not on the horizon, we have expanded our field of operation and made new plans. We are politically and religiously independent and are financed solely through donations.
Sea-Watch is vehemently committed to ensuring that no one has to die at Europe's deadly sea border.
In view of the humanitarian catastrophe with thousands of deaths in the Mediterranean, the idea for the Sea-Watch project was born in 2014. In spring 2015 we bought an old cutter and rebuilt it for use in sea rescue. With the help of numerous volunteer activists who set up the project in Germany or who have been crew members in the Mediterranean between Libya and Italy since June 2015, we have succeeded in effectively saving thousands of people.
The voluntary commitment of many is the core of our work. They have provided us with their knowledge and skills in shipping, medicine, mechanics, logistics, public relations and much more.