The EU-Turkey-Deal was supposed to end the dying in the Aegean Sea. But still people are risking their life on their way to journey. The number of peoplecoming from Turkey to Greece are increasing again: In August 3121 arrived on the Aegean Islands. While hundred of thousands are waiting in Turkey the EU is proud of their low contingents of 22.000 people.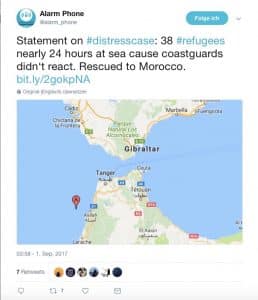 At the 31th of August a Boat with 38 Refugees gets distress at sea in front of the coast of Ma
rokko. The NGO Watch the Med-Alarmphone calls the spanisch and moroccan coast guards – but nothing happens. For hours the people had to stay on the boat, full of fear. Only after more effort of Alarmphone and other NGOs finally a helicopter came tolocate their position. Panic rose, because the boat lost a lot of air. A spanish boat started to drive into the direction of the refugees – but i
n the end the moroccan coast guards picked them up and broad them back to Africa.
In front of Tunisia sunk a refugee boat last week – 120 people died. They started from Libya on their way to Europe. One of the refugees managed to swim back to the coast and tell about the catastrophe.
At the 31th of August SOS Mediterranee rescued 143 people in the international zone on their way to europe. They brought them to a safe harbour. With the return of the boat of SOS Mediterranee now there is no NGO boat left in the Mediterranean to witness the happenings there and rescue more humans.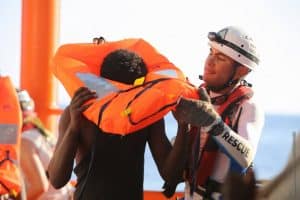 "When Paul came over the sea", a movie about the journey of a Paul Nkamani from Kamerun, who came over the Mediterranean sea until Germany is now in the german cinemas. We had an evening with film-screening and a discussion with Frank Dörner from Sea-Watch, movie-director Jakob Preuss and protagonistPaul Nkamani.
All those incidents in the Mediterranean show: The suffering in the Mediterranean is not ended yet – and there is still dying because of European migrationpolitics. The art project #MedFaces aims to give the lost and dead people a face again. Join it and send us hour piece of art!