The faces of 38,000 human beings mark the sad reality of the EU's migration policies. Since the year 2000, more than 38,000 people have died trying to cross the Mediterranean Sea, the EU's external border. Yet together we can find ways to remember all of these people who perished in search of a better life, safety, dignity and equity. The artistic project Mediterranean Faces is collecting one image for every person who lost their life fleeing across the Mediterranean – more than 38,000 'faces of the Mediterranean'. Everyone can participate!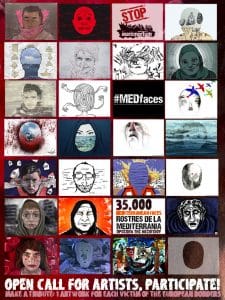 "What we would like to express is: look at how many individuals that number represents. This is not just a photograph of a person wearing a lifejacket and standing, trembling, in a lifeboat, or indeed of the many who did not even make it into the boat. This is an individual person, with dreams, hopes and fears", says the co-founder of Mediterranean Faces, Yorgos Konstantinou. The project emerged from the Catalonian initiative Stop Mare Mortum, which aims to create awareness of the plight of refugees and support them through its actions and work. Mediterranean Faces wants to show the sheer scale of the tragedy happening in the Mediterranean Sea, and create greater consciousness and awareness.
That is why Yorgos calls on everybody to create images of faces – as a homage to every single person who has died in the Mediterranean Sea. This can be an artwork showing despair and hope for a better life, pointing at the drama happening in the Mediterranean Sea, but also expressing joy and optimism that can be connected with the sea itself. It can show a refugee, a traveller, a wanderer, all of the happiness and misery of people at the Mediterranean Sea. All of that should be within the scope of the project, as Yorgos points out: "Pain and agony, but also the positive and beautiful sides of the Mediterranean Sea, as a place of coming together and as a place of joy – all of that should be looked at. We want to deal with murder by talking about life." The artwork created by participants will be exhibited in different places, freely organized by all those who are interested.
We as the Sea-Watch team want to support the project together with you – let your creativity flow!
This is how you can get involved:
You want to paint a 'face of the Mediterranean'? Here you can download a base image in horizontal A4-format – and off you go! No matter if digitally or on paper, in colour or black-and-white, everything is possible and welcomed. Please send us your artwork as a digital image in a resolution of 300dpi to media@sea-watch.org – and share it in your social profiles with #MEDfaces and #FaceReality.
You want to exhibit the artwork as an individual, curator, organization or association? With every exhibition, more awareness is created for the project and more people can be sensitized. Around 350 artworks have already been created and presented in over 25 exhibitions, mainly in Spain and Greece. Any kind of space and exhibition is highly appreciated and welcomed by the project. Get in touch with us via media@sea-watch.org and arrange the next exhibition yourself.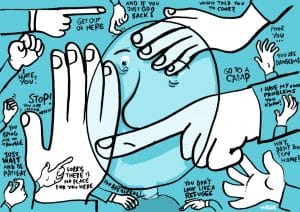 PS: keep an eye on our Facebook page! There we will show you some of the artwork of people who are already part of Mediterranean Faces – as well as their motivation and background. Let us stand up for a better understanding of this tragedy, a tragedy that can not only be grasped by looking at numbers, but by looking in our hearts. In this way, grief and hope, empathy and readiness to act can all stand side by side.
More info: Mediterranean faces // Stop Mare Mortum // #MEDfaces