We have always said that people rescued from distress at sea must not be brought back to Libya under any circumstances! A rescue operation is only finished when the rescued people have been brought to a place of safety.
What does that mean exactly? Those rescued must be brought ashore in a place where a person's fundamental rights are respected – that is what the international law of the sea says. Libya is marked by ongoing violent conflicts. Torture, enslavement and murder of people are not uncommon. Human rights are disregarded here on a daily basis. That is why we and other civilian sea rescue organisations are obliged to bring rescued people to Europe – not to Libya.
On 30th July 2018, the captain of the deep-sea supply ship Asso Ventotto decided to have over 100 people previously rescued from distress at sea brought back to Tripoli, Libya, by handing them over to the so-called Libyan coast guard – contrary to international law! At no time had the captain contacted the Italian Maritime Rescue Coordination Centre (MRCC) – although the ship, which was sailing under the Italian flag, would have been obliged to do so. Instead, the entire rescue operation was coordinated by the so-called Libyan Coast Guard.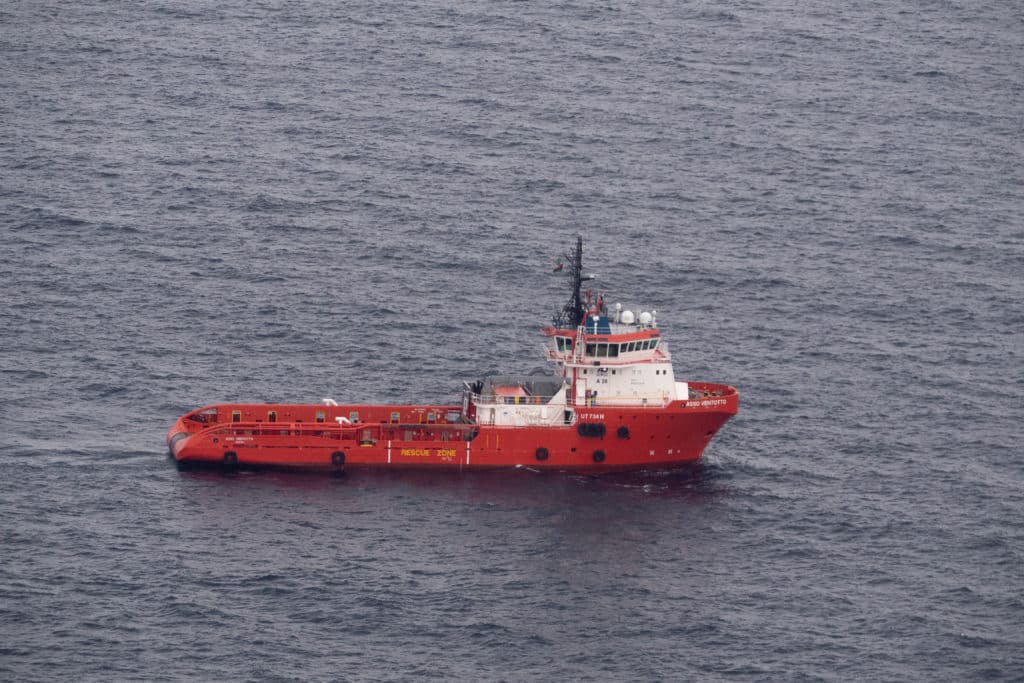 At the same time, however, there was contact with the Open Arms, at that time the only operational civilian sea rescue ship in the central Mediterranean area. The crew of the Open Arms explicitly pointed out that disembarkation to Libya was illegal and that only a port in Europe can be considered. Mass returns without verification of the right to asylum are contrary to international law – this has been clear at least since the landmark case of Hirsi Jamaa and others v Italy.*
The captain, however, chose the supposedly easier route and is now paying a high price: He faces a one-year prison sentence. The landmark verdict is also based on the radio conversations recorded by the Open Arms. The reasons for the verdict are expected within the next few months, but what is already known: The Italian court has clearly confirmed with its verdict that Libya is not a place of safety!
It is the first time that a captain of a commercial ship has been prosecuted for a return – an important step in the right direction. Because push- and pullbacks are illegal, no matter if they are carried out by authorities such as the European border protection agency Frontex, or by commercial ships or private seafarers!
We are pleased with the ruling, which once again confirms that sea rescue is an obligation under international law and that a rescue is only complete when those rescued can go ashore at a safe port.