++BREAKING+++ On Monday night, the Crew of Sea-Watch 1 saved 27 refugees in distress off the Greek island of Kos. +++BREAKING+++ Since the 30th of August 120 people have been missing – this was reported by the only survivor, who was able to reach Tunisia by swimming. +++BREAKING+++ The routes to Europe are changing: Romanian coastguards are picking up more and more refugees on the Black Sea.
The humanitarian crisis at Europe's borders is not over – on the contrary, it is becoming harsher because of the European policy of isolation. This is why we are keeping up our missions off Libya. With our Aircraft #Moonbird we monitor what is happening at this border of Europe and with the Sea Watch 3 we will bring a rescue ship back into operation.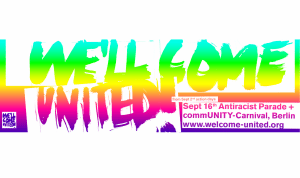 Our politicians want to shift the borders of Europe further and further south – we are bringing them directly to Berlin. The activists of Sea-Watch will call for a different migration policy on an original rubber boat at the Welcome United Demonstration. We need #SafePassage to Europe. We are making our case directly in front of the Ministry of Interior, so that even De Maizière can't ignore us.
The European Union and the next government of Germany has to decide: human rights or resistance to migration? We can't have both. If we want to prevent the violation of human rights on the different migration routes we must offer legal and safe ways to enter the EU – but right now we are far away from that. During the election campaign of 2017 even basic human rights have become negotiable. That is why we will take our claims to the streets and together with other NGOs we will shout "We'll come United"!
Archive Photo (2015) – jib-collective.net for Sea-Watch: On this rubber boat, with the help of Sea-Watch, politicians can experience the impact of Europe's isolation policy.