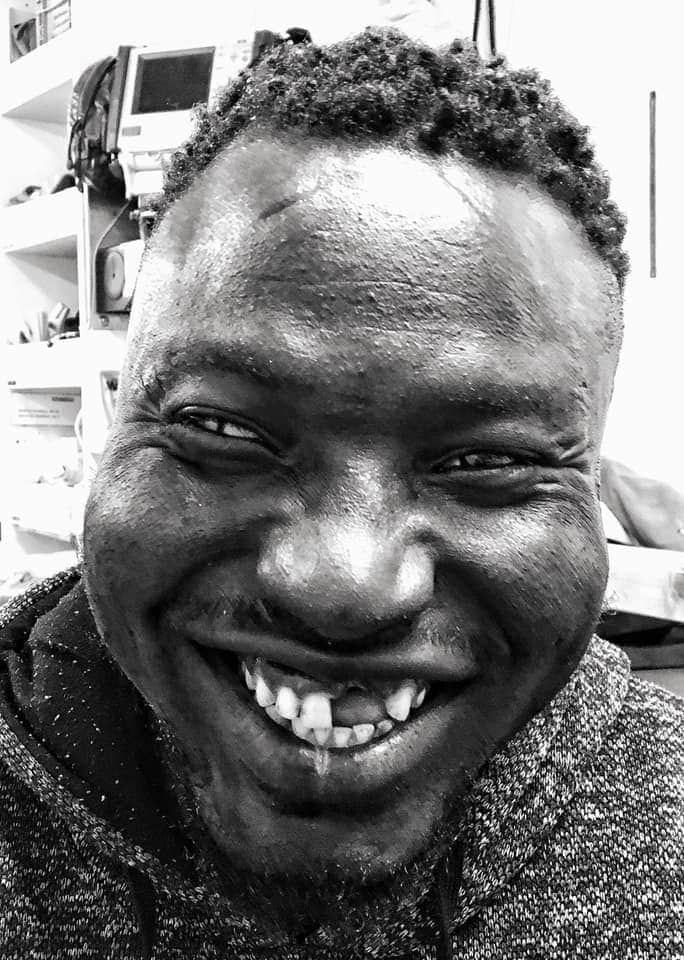 This is Doro and he is beautiful. Believe me when I say it, he is beautiful. His inner strength is completely humbling and it shines through anything that your eyes may see. Today he is kept like a hostage in the sea onboard the Sea-Watch 3, stranded outside of Sicily, neither allowed to go to land, nor leave.
Doro is kind, generous, thoughtful and gentle. His story though, should chill us all to our bones. For Doro has suffered for his dreams more than I could possibly describe. His story is not unusual, but it is compelling and a real and vivid testimony, which shows why no human should be returned to Libya.
In Libya they called him Mo. Mo means helper in the language of the Soninke. He speaks 7 languages including French, English, and Arabic. He is a kind and empathetic man, who humbly washes the dishes so that his rescuers don't have to.
When people say that we should "take them back", I think of people like Doro. And I see through those empty words which echo in the comments of every article that is written about humanitarian rescue. And I hear Doro telling me: "Don't blame them. They have never suffered like this. They don't know what they mean."
Doro is a gentle giant who inspires me constantly and it pains me to tell his story. For I know a man who has suffered without doing anything wrong. Still today, his freedom is denied. It is an injustice that I just can't understand. Doro has asked that his story is shared, so that others don't suffer like he has. This is just a snapshot…


In Libya, Doro was tortured mercilessly. They hung him by his hands and cut his face, whilst they video called his mother, demanding money for his release. His torture was repeated many times, smashing his face with a Kalashnikov rifle, and causing him to lose sight in his eye. He was stabbed in the stomach and beaten over and over again. His scars are very real.
In the beginning, he says that he was strong. They put cigarettes out on his chest, but he did not cry out in pain. Their punishment intensified and he was beaten mercilessly. They starved him, took his money, extorted the money from his parents who sold their house so that he could survive. His mother sold her own house to pay the prison for his release. Then the people sold him. He was a slave. He was sold over and over again but still his light shines brightly. He is a lighthouse.
In prison, his best friend died right next to him. He escaped and tried to cross to Europe. He was caught by the so-called Libyan Coast Guard, returned and sold as a slave again. He tried again, taking his chances in the sea. Caught again, he was returned to prison and sold once more. Three times he was sold as a slave.
The next time he tried, he made it so far until he heard a speedboat approaching. He heard it slap through the waves as it got closer. He knew it was the "Coast Guard" and he felt like throwing himself in the sea. Then he heard a voice. "You are safe now". He said that he knew then that it was not the Libyans coming to get him as they would never say that he was safe.
Now he is on the Sea-Watch 3, held hostage at sea by the Italian authorities who refuse to let the ship come to land. It is a travesty to imagine that nobody will help this gentle soul. I hoped that we were better than this.
I'll tell more of Doro in time. His story, his struggle, is incredible but unfortunately not unique. What is unique though is his eagerness to share what happened to him. He would urge others not to try to make it. He wishes he never had to.
Doro my friend. I hope that Europe welcomes you. I hope that kindness filters through the people of Europe and reaches you on this ship. And that when you get to land, they let you live and love as the gentle human that I have grown to adore.
– Brendan (Sea-Watch 3 Rescue Team)