Diese Veranstaltung hat bereits stattgefunden.
Maps of Solidarity – int. conference on borders and justice
30. August 2019 · 21:00

-

1. September 2019 · 14:00

UTC+1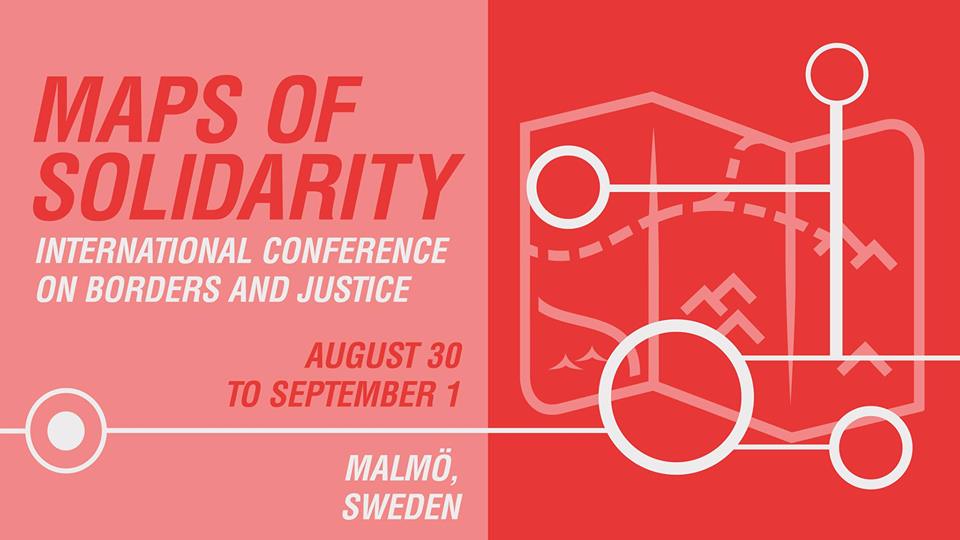 from the announcement:
"
Welcome to Malmö, Sweden to a conference for those of us that want to see a completely different world. Now is an urgent time to meet, share experiences and ideas, and organise together.
As states and other actors are increasingly organising themselves across nation borders to build higher fences, the solidarity and progressive movements are in need of spaces to organise against these repressive and violent politics.
We hereby invite you to a conference filled with workshops, lectures and, more importantly, a place to build new alliances and strategies together.
The programme will be continuously updated! Stay tuned!
———————————–
LOCATION: ABF Mosaiken, Porslingatan, Malmö.
ACCOMMODATION: For those coming from afar, we will provide accommodation as far as possible. Let us know if you need somewhere to stay!
TRANSLATION: Most of the conference will be held in English, but contact us if you would need translation and we will do our best to find a solution.
OTHER NEEDS: If there is anything else that we can do to make it easier for you to attend the conference, please write to us!
WHO ARE WE AND WHAT DO WE WANT? The initiators of this event are different leftist groups and organisations based in Malmö, Sweden. We hope that the conference will provide a much needed opportunity to gather socialists and activists from several countries, in order to collectively discuss, share experiences and, most importantly, organise resistance.
Please mail us at mapsofsolidarity@riseup.net if you have any questions or any of the above needs!
"